SABATO 26 GENNAIO'019 dalle 22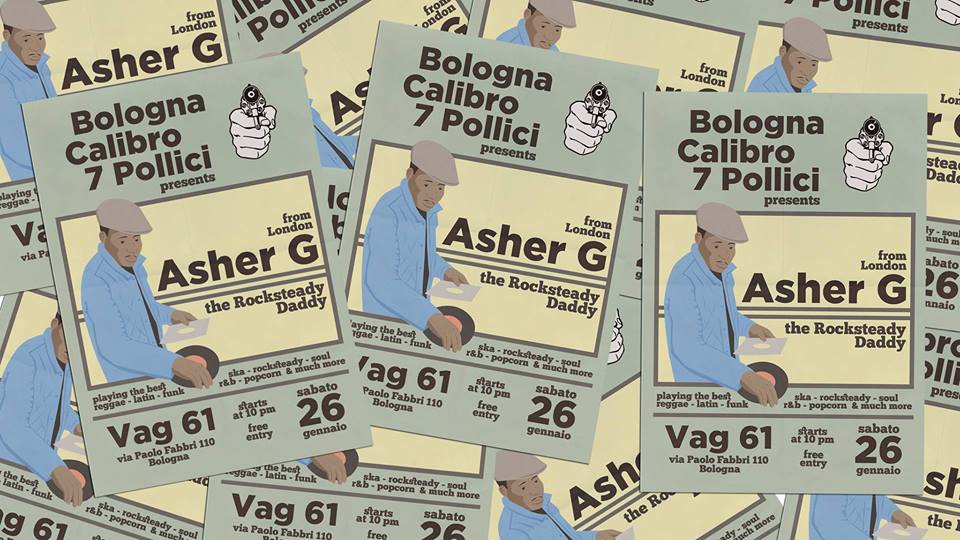 Sabato 26 gennaio inizia il 2019 di Bologna Calibro 7 Pollici @ Vag61. Inauguriamo il nuovo anno con uno dei pesi massimi della scena londinese. Per la prima volta a Bologna, Mr. Asher G, The Rocksteady Daddy. Figlio d'arte, è cresciuto in mezzo a dischi e musica e vanta un'esperienza di quasi quaranta anni nella scena Vintage Jamaican Music londinese e mondiale.
BC7P Resident DJ's: Salvo, Federico, Simone & Michele.
C'mon dancing the best Ska, Rocksteady, Early Reggae, R&B, Soul, Northern Soul, Latin, Boogaloo, Cumbia, Funk, Popcorn, Exotica and Oldies on 7inch records!
★★ FREE ENTRY ★★
★★ COME EARLY ★★
* * * * * * * * * *
★ BIO ★
ASHER G, the "ROCKSTEADY DADDY"
George Walcott (aka Asher G) was born in 1961 to Jamaican parents and raised in north London, a street away from Equals front man Eddy Grant. His father was a tailor and the owner of the sound system Count Wally the Mighty Hi-Fi, so he grew up in a house filled with records and music. Young George thrived in this environment and busied himself from an early age selecting records from his father's collection.
At the beginning of the 1980s, Count Wally gave up his sound system and presented George with his record collection containing many thousands of 45s. At a time when most reggae DJs were playing Upsetter and Augustus Pablo productions, Asher G was carving out his own distinctive style, selecting unusual instrumentals from Derrick Harriott and Harry Mudie, plus titles from the likes of Eric Morris, Glen Adams, Toots Hibbert and Jackie Mittoo.
In November 2008, Asher G was chosen by a sizeable crowd at a clash in north London as the revival king of the UK, beating the other finalists RS Digital, Jesse James and Gladdy Wax to pick up a prize of £1,000, as well as the distinction of the title. Not that his nomination came as any real surprise – he had already been considered by many to be the London reggae revive master for the previous 25 years.
In 2011 he began regularly playing out in London as part of the Ska Lavin crew, a collective started by Tiny T, and later completed with Naoko The Rock and Oxman. Their regular nights based around London attracted many connoisseur vinyl reggae fans from diverse ages and nationalities.
Together they played London's popular Reggae events Rootikal, Tighten Up and David Kat's Dub Me Always, alongside UK music festivals such as Strummerville, Folkestone Skabour, and sound systems Phil Bush Sounds and Pressure in Nottingham.
Asher G has also played out solo abroad, with two tours in Japan seeing him DJ in cities such as Tokyo, Nagoya, Osaka and Kyoto while he has played European dates in Brussels, Stockholm, Milan, Roma, Geneva, Berlin, Kiel, and at the Geel Reggae music festival in Belgium. Recently he played at Rototom Sunsplash 2017 and 2018 in Spain with a great successes.
A renowned radio DJ, he hosted the Caribbean Memories show on Haggerston Radio. Asher G now continues his musical legacy with the Caribbean Memories showcase.
INSTAGRAM: https://www.instagram.com/asher_g_the_rocksteady_daddy/
MIXCLOUD: https://www.mixcloud.com/the_Rocksteady_Daddy/
FACEBOOK: https://www.facebook.com/ashergtherocksteadydaddy/
_____________________________________________________
Sabato 26 gennaio 2019 | H22
Vag61 – Via Paolo Fabbri 110 Bologna
★★ FREE ENTRY ★★
★★ COME EARLY ★★