SABATO 20 OTTOBRE'018 alle 22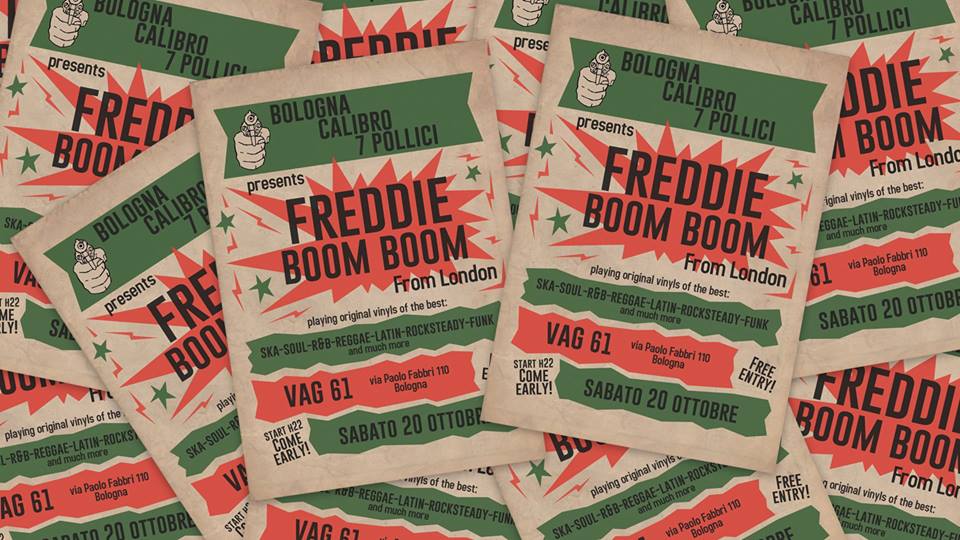 Riparte la quinta stagione di Bologna Calibro 7 Pollici [info] a Vag61. Ad inaugurare le danze abbiamo chiamato un veterano della scena europea, francese di origine ma con le radici ben salde in Inghilterra, attivo dagli anni '90 nei circuiti underground del reggae e non solo. Signori e signore, diamo il benvenuto a Freddie Boom Boom, direttamente da Londra!
BC7P Resident DJ's:
Salvo, Simone, Federico & Michele
C'mon dancing the best R&B, Soul, Northern Soul, Popcorn, Funk, Exotica, Cumbia, Oldies, Gospel, Ska, Rocksteady, Early Reggae, Latin & Boogaloo on 7inch records!
_____________________________________________________
★ BIO ★
Freddie: I have been immersed in music from a very young age. I have developed my interest in Jamaican music with the 2-Tone years and Punk, two musical styles which like Jamaican music have always had an independent spirit and social message at heart.
I have been involved with bands (The 100 Men), fanzine editing (Skactualités), record releasing (Magic Records), gig organising, and radio and club DJ-ing, all on the independent circuit.
Moving from France to London in the 1990's, I took part to more club DJ-ing, mainly in underground clubs on the UK and European Mod scene.
I love playing a mixture of 1960's and 1970's Jamaican music alongside Jazz, Soul, Funk and Rhythm'n'Blues, as all these styles are related and the audience loves to discover and dance to them.
After running several successful club events in London (The Reggae Shack, Copasetic!, Boom Shaka Lacka), I now concentrate on being a guest-DJ at various vintage Ska, Reggae and Soul nights. These have included:
Coast To Coast (London)
Tighten Up (London)
The Sidewinder (London)
Crawdaddy! (London)
Hook & Sling Alldayer (London)
Trojan (London)
The Mousetrap (Mod alnighter, London)
La Rochelle Bubblegum Weekender (FR)
Hamburg Reggae & Soul Festival (DE)
Brussels Reggae & Soul Weekender (BEL)
Terracina Mod Weekender (IT)
Reggae Geel (BEL)
& more
I also have collaborated as a DJ regularly for the past ten years with Fred Perry Ltd. on their music events (private or public), and have been a consultant for their shop's playlist.
Instagram account: https://www.instagram.com/freddie_boom_boom/
_____________________________________________________
Sabato 20 Ottobre 2018 | H22
VAG61 – Via Paolo Fabbri 110 Bologna
★★ FREE ENTRY ★★